With a little creativity, party and wedding decorations can be both stunning and eco-friendly. The three R's of the environment – Reduce, Re-use, Recycle can be an effective way of thinking about the ways to lessen the impact of a large celebration. Below are some ideas for eco chic decorations.
1.

Pretty Flower Pots from re-used tins
Cover tin food cans with pretty paper and line along the centre of a table. Fill each with small plants, herbs or garden flower stems.
2.

Hanging hearts from recycled music, maps and magazines
These simple hearts can be made by cutting out old sheet music, maps or magazines and hanging on string.
3.

Paper Petals
Paper petals
add a celebratory feel. They are made from Saa paper which is a sustainable resource and ultimately biodegradable.
4
.

Re-used wine bottles with candles
These candles look stunning arranged en-masse as a table centrepiece. Soya or beeswax candles are a more eco alternative to petroleum based candles.
5.

Apple Candles
Fresh & simple candles, made from cutting out a section of apple and placing a tealight inside.
6. Green place settings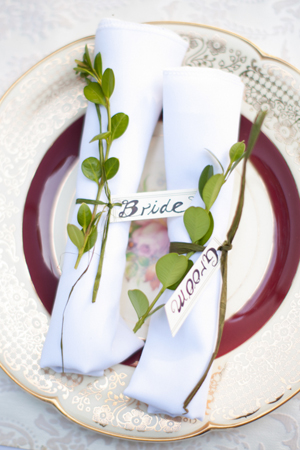 There are lots of fantastic ideas for DIY & Eco decorations at Green Wedding Shoes, check out this post
http://greenweddingshoes.com/best-of-2012-details-diy/
For more eco-friendly ideas please see my boards on Pinterest.
https://pinterest.com/papertreeuk/eco-friendly-wedding-party-ideas/
Ann-Marie x